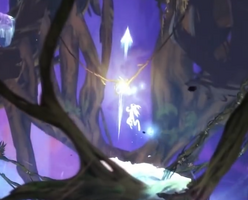 You've learned Bash! To use this ability, hold Y near lanterns or enemy projectiles, then aim in the direction you'd like to leap! Projectiles will be redirected in the opposite direction!
Bash is the fifth skill Ori learns. Taught by the light of Reem, Bash allows Ori to launch themself off an enemy projectile or a lantern. Projectiles will be launched in the opposite direction, and can be used to break barriers blocking secret places. Using Bash also stops time for a short period, giving the player a few seconds to decide which way he or she wants Ori to leap.
Ori learns this skill in the Ginso Tree.
Ad blocker interference detected!
Wikia is a free-to-use site that makes money from advertising. We have a modified experience for viewers using ad blockers

Wikia is not accessible if you've made further modifications. Remove the custom ad blocker rule(s) and the page will load as expected.